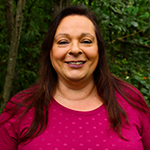 Areas of Expertise
Tammi has been with CCER for 20 years as the Conference Coordinator and has now transitioned over to the ADII (Accessible Design and Innovative Inclusion) program helping Eva de Leon. She has years of experience in ADA compliance as well as arranging site and material accessibility. She now works on projects related to accessibility assessment and the ADA.
She also keeps an eye on the day-to-day operations of the CCER offices using her finely-tuned troubleshooting skills. You may receive an email from her, or you may meet her on the telephone.
Relevant Education
Tammi graduated from Everett Community College with an ATA Degree in Business Technology. She is a member of the Chippewa-Bois Fort Indian Tribe.