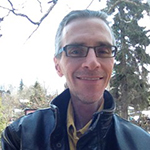 Training and Information Specialist
Areas of Expertise
Since 2004, David has been affiliated with the Northwest ADA Center (NWADAC), working as the Alaska State Partner out of Access Alaska, Inc. in Anchorage, AK. He formally became a member of the NWADAC team in July of 2015. David provides technical assistance and training on the provisions of the Americans with Disabilities Act (ADA) and other disability-related laws and regulations, such as the Fair Housing Act. David also conducts formal architectural accessibility surveys and provides recommendations to businesses to businesses and housing providers barrier(s) removal. He has first-hand experience working with individuals with disabilities and the common intersection of disability in society's various public and private entities, opportunities, and experiences. More specifically, David has a background and practical experience in prominent topics of today, such as emergency preparedness, service and assistance animals, outdoor recreational areas, architectural accessibility, and employment opportunities.
Relevant Experience and Education
David has over 16 years of experience specifically working on ADA-related issues and has a Bachelor's degree in Psychology from the University of Northern Illinois. Over the last ten years, David has, and continues to be, an active member on multiple disability-oriented commissions and workgroups for private and public entities within the State of Alaska.